SiliconeHoseMotorsportParts - WireReinforcedHose
Wire-reinforced hoses offer increased flexibility, very high burst pressures, and will not collapse under vacuum.
Our straight length hoses come in 1m lengths, and the construction can be varied for different applications. The standard colour is blue, but other colours are available.
Polyester reinforced straight length hoses are suitable for coolant and boost (up to 180°C)
Please note: small bore hoses are flexible, but as the bore increases the flexibility is reduced. Please check your application with SFS Performance before purchasing.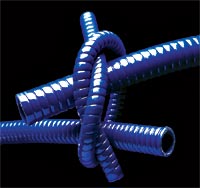 Wire Reinforced
Bore (mm)
Length (mm)
Part No.
Price
Colour / Qty
13
1000
WHL13
£32.76
16
1000
WHL16
£34.15
19
1000
WHL19
£35.58
22
1000
WHL22
£37.20
25
1000
WHL25
£38.75
28
1000
WHL28
£39.97
30
1000
WHL30
£43.05
32
1000
WHL32
£45.01
35
1000
WHL35
£47.68
38
1000
WHL38
£50.83
41
1000
WHL41
£51.21
45
1000
WHL45
£55.00
48
1000
WHL48
£58.44
51
1000
WHL51
£60.91
54
1000
WHL54
£65.44
57
1000
WHL57
£67.98
60
1000
WHL60
£73.87
63
1000
WHL63
£79.88
65
1000
WHL65
£82.71
68
1000
WHL68
£91.77
70
1000
WHL70
£101.97
76
1000
WHL76
£108.77
80
1000
WHL80
£112.17
83
1000
WHL83
£118.97
89
1000
WHL89
£128.03
102
1000
WHL102
£135.96
114
1000
WHL114
£152.96
127
1000
WHL127
£169.95
NOTE: All prices are + VAT @ 20.0%