SiliconeHoseMotorsportParts - StraightLengths
Our straight length hoses come in 1m lengths, and the construction can be varied for different applications. The standard colour is blue, but other colours are available.
Silicone rubber is not very resistant to oil. By adding a fluoro-silicone liner to the bore of the hose, the oil resistance is greatly improved. These hoses are suitable for oil and oil vapour, provided that the oil is only in the bore of the hose. The hose should note be immersed in oil.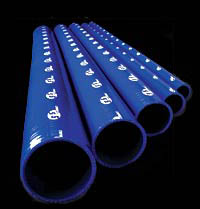 Oil Hose
Bore (mm)
Length (mm)
Part No.
Price
Colour / Qty
6.5
1000
FHL6.5
£29.46
8
1000
FHL8.0
£31.72
9.5
1000
FHL9.5
£33.99
11
1000
FHL11
£36.79
13
1000
FHL13
£39.60
16
1000
FHL16
£43.53
19
1000
FHL19
£47.76
22
1000
FHL22
£54.93
25
1000
FHL25
£57.57
28
1000
FHL28
£61.57
30
1000
FHL30
£62.20
32
1000
FHL32
£65.10
35
1000
FHL35
£71.36
38
1000
FHL38
£78.31
41
1000
FHL41
£81.63
45
1000
FHL45
£84.92
48
1000
FHL48
£89.53
51
1000
FHL51
£92.02
54
1000
FHL54
£94.58
57
1000
FHL57
£95.11
60
1000
FHL60
£95.18
63
1000
FHL63
£110.29
65
1000
FHL65
£114.55
68
1000
FHL68
£119.79
70
1000
FHL70
£123.25
76
1000
FHL76
£154.74
80
1000
FHL80
£171.15
83
1000
FHL83
£173.68
89
1000
FHL89
£178.92
102
1000
FHL102
£181.62
114
1000
FHL114
£207.45
127
1000
FHL127
£222.08
NOTE: All prices are + VAT @ 20.0%